Alex Brueckmann skilfully blends proven methods, specific exercises and templates into the actionable framework of The Nine Elements of Organizational Identity. 
By applying his step-by-step process, leaders can leverage purpose-driven and value-based strategies, anchored in capabilities, culture and management systems. The book highlights desirable outcomes, how to achieve them, and how to avoid pitfalls on the way.
Discover how to design and implement strategy faster and more successfully, and how to make your efforts stick! Alex Brueckmann gives away the secret sauce that helps organizations reach peak performance, become truly transformational members of society, and support leaders to build a legacy.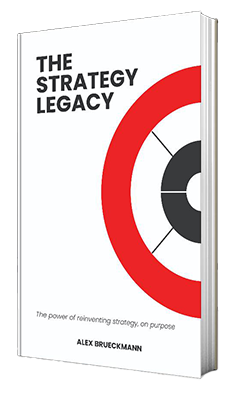 Subscribe to get news on the book release
Get regular updates on the upcoming book by Alex Brueckmann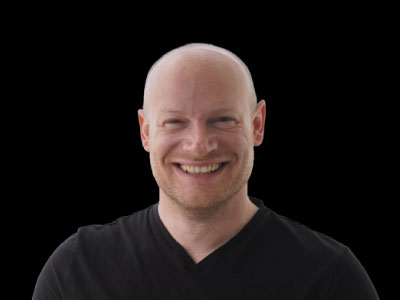 I specialize in coaching leaders to crystallize their organizational identity through rigorous strategy processes. My purpose is to transform organizations to make the world a better place. As a board advisor, executive coach, and speaker I have impacted thousands of executives in organizations across the world, ranging from multinationals and start-ups to non-profits and public organizations. My clients sustainably transform their environment and achieve profound personal growth. I work pro-bono for environmental protection causes and support research to find a cure for the terminal childhood brain cancer DIPG. 
Interactive Diagram
Click on any section of the diagram to get a description and an understanding of their function and characteristics.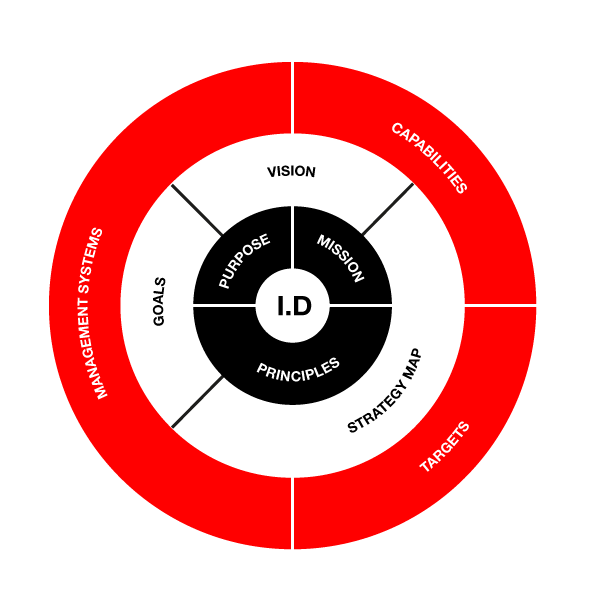 Purpose
Purpose is your reason to exist.
Function: It provides meaning and orientation.
Characteristics: It addresses a good cause, is grand, and idealistic.
Principles
Principles are underlying values and behavioral guidelines.
Function: They provide a framework for decision-making, collaboration and desired behavior.
Characteristics: They are non-negotiable and universally valid within an organization.
Mission
Mission is what an organization does, and for whom.
Function: It defines an organization's field of activity or business.
Characteristics: No frills.
Vision
Vision can best be defined as an organization's state some years in the future.
Function: It paints a desirable picture that engages and motivates people.
Characteristics: It addresses hearts and minds of key stakeholder groups.
Strategy Map
A Strategy Map visually depicts an organization's strategic priorities.
Function: It helps to steer towards the vision.
Characteristics: It addresses different stakeholder perspectives along the value chain.
Goals
Goals are the operational breakdown of strategy.
Function: They help move strategy into action.
Characteristics: They are SMART and the basis for individual targets.
Targets
Targets describe an individual's contribution to implementing organizational identity.
Function: They create transparency, motivate, and make contribution matter.
Characteristics: They are role specific, addressing several elements of identity.
Capabilities
Capabilities are mission-critical skills for implementing organizational identity.
Function: They enable leaders and individual contributors to cope with change and live up to expectations.
Characteristics: They include occupational skills and a specific set of interpersonal skills.
Management Systems
Management Systems are frameworks to steer an organization.
Function: They help achieve strategic and operational objectives.
Characteristics: They support the status quo, not the change, and need to be adjusted.
The book is currently being produced. Here's what the early reviews say:
My bookshelf and hard disk are full of theoretical management and strategy books, many of them unread. Alex's book is very different because it is from a practitioner for practitioners! It is the book to prepare your business for the future. Especially for people like me – not born as a natural strategist – the logical, pragmatic connections between purpose, strategy, vision and mission are invaluable.
Parts of these concepts we tried out a couple of years ago very successfully. Now that I read this book I feel and smell in each line the continuous learning and optimizing. The framework developed into a complete identity design process, mature, pressure tested and easy to implement. Combined with very suitable illustrations and cartoons as well as examples and models – I liked the 'chocolate layer cake' the best – the book is fun to read. It triggered a lot of ideas about unleashing the potential of the organization and inspired me to re-start the identity process immediately. Many thanks, Alex!
This book is a rare find, bringing clarity to the often fuzzy concepts that make up business strategy as a vehicle to deliver organizational identity. As I read the book I often found myself sharing the nuggets I encountered with my business partner, usually with a comment like "here's something we can use!".
Alex writes with intelligence, passion and humor, interconnecting his points with a combination of intuitive visuals, relevant anecdotes and practical resources, interspersed with some poignant cartoons. I discovered essential tools I could have used in my past as a CEO of fintech startups, and tools I will certainly find useful as an advisor to leadership teams. Leadership is all about people, culture and so many intangible things. This is where Alex shines in recognizing this important dimension of inspiring and affecting change.
Without spoiling the surprise, in the dozens of strategy books I've read, I've never found one that so skilfully provides guidance to piece together the inspirational and aspirational with the quantitative measures and control to really align an organization's identity.
In a refreshing departure from "cookie cutter" strategy books, Alex Brueckmann blends his corporate expertise and consulting experience to stitch together nine core facets of organizational identity. Throughout, he manages to avoid cliché, deftly weaving real-world experience with insightful wisdom, supported by practical examples. He provides compelling links between strategy, purpose and execution and the whole book is written as a practical, step-by-step guide to creating a powerful identity that's inspirational and challenging.
Having worked in corporate industries for 20 plus years, my unexpected delight at discovering a book which talked to me as though I was in a lively & entertaining strategy workshop was a big surprise. I have not only 'refreshed' much of my own thinking on linkages between pillars such as purpose and its anchor to strategy, but, I've personally learned and gained more insight using principles such as the 'balancing loop' and playing them out on the 'test' scenarios shared within.
Alexander has created a comprehensive strategy manual. It combines a stringent framework with academic research and practical advice. It is loaded with examples, both public and from his extensive experience that illustrate the concepts and highlights pitfalls and challenges.
The book provides a framework that is broken down into different components. It is so clear that anyone - even without in-depth strategy experience - can pick it up and get to work. Alex has done a particularly good job to highlight implementation down to even providing tools which also makes the book relevant to the experienced professional.
Subscribe to get news on the book release
Get regular updates on the upcoming book by Alex Brueckmann
Sam Hiyate shares insights about Alex's new book in this interview
We're almost there. But before you can hold my new book in your hands, I want to share this insightful interview with you. Kate Tuck, who has been working with me for almost a decade, interviews Sam Hiyate, the CEO of The Rights Factory. He lets us in on the secrets of book publishing, why he took my new book under contract, and what makes the book – in his words – "brilliant" and accessible for everyone running a business.